Return to Headlines
Donna ISD Officially Hires Sole Finalist As DISD's First Woman Superintendent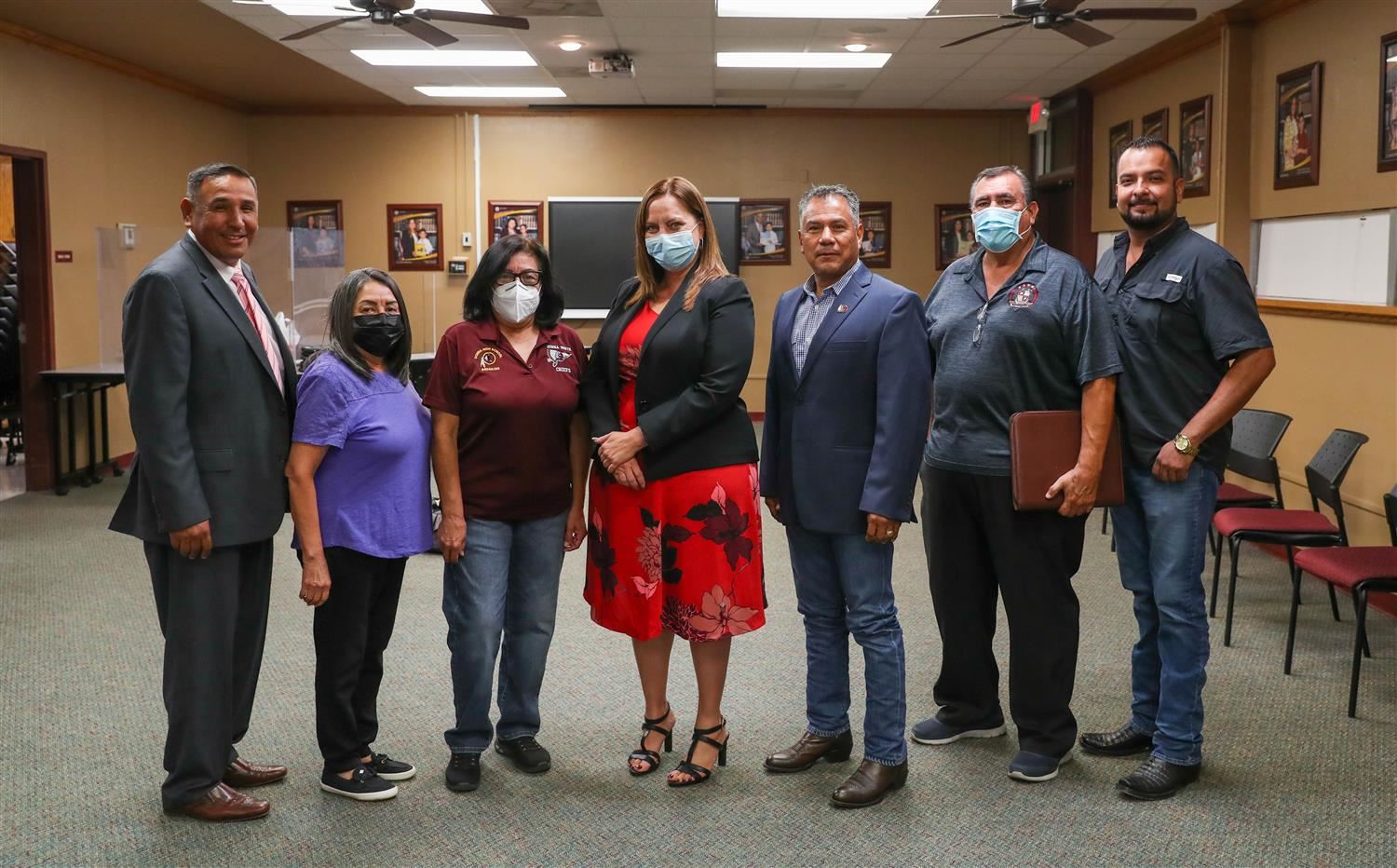 The Donna Independent School District Board of Trustees announced that sole finalist Ms. Angela Dominguez has been officially hired as the next Superintendent of Schools during a regular board meeting Tuesday, Oct. 12th. Ms. Dominguez becomes the first woman in Donna ISD history to serve as superintendent. She begins her leadership role Wednesday, Oct. 13th.
Ms. Dominguez was selected from a nationwide pool of 28 applicants representing three different states. The search process, led by Superintendent Search Consultant Dr. Ruben D. Olivarez, also included input from members of the public, faculty, and staff through a community survey.
By law, the Board of Trustees was required to wait 21 days after naming Ms. Dominguez as the lone finalist on Sept. 14th before voting to officially hire her as the new superintendent for Donna ISD.
Donna ISD School Board President Dr. Maricela Valdez said of the 28 applicants that applied, the trustees agreed that Ms. Dominguez was the best person to lead the district and take it to the next level. "On behalf of the entire Donna ISD School Board, we want to welcome Angela Dominguez as Donna ISD's next Superintendent of Schools," Dr. Maricela Valdez said. "It was a unanimous vote by the school board indicating a solid decision. The goal of the board continues to be the academic performance of students as a top priority and Ms. Dominguez's prior experiences and background fit in with the dynamics, culture, and expectations of the district. We look forward to working together as a team of eight to advance the educational opportunities of all our Donna ISD students."
Ms. Dominguez comes to Donna ISD with 26 years of public education experience and a reputation of being a leader with a strong focus on student outcomes. Over the course of her career, she has served as a teacher, principal, and district administrator. At the campus level, she led a Dual Language Academy, within the San Antonio Independent School District, that was nationally recognized. She also opened the first all-girls public school in the City of San Antonio and ran a comprehensive high school that moved from low performing to one of the most distinguished schools in Bexar County.
At the district level, Ms. Dominguez worked as Chief of Schools and Assistant Superintendent at Edgewood Independent School District. While there, she led efforts to open the district's first Early Head Start Program for infants to three year olds. She also launched the Gus Garcia University School in partnership with Texas A&M San Antonio as well as led post-pandemic academic recovery efforts in a district serving over 20,000 students. Her latest administrative role was at Colorado Springs School District 11 where she served as Deputy Superintendent.
Ms. Dominguez is excited about joining the Donna ISD family and cannot wait to meet everyone in person. She said she is ready to roll up her sleeves to work hand-in-hand with the Board, administrators, teachers, staff and community to serve the children of Donna. "Some of my first priorities are to visit schools, meet our students and staff, and begin to gather feedback about how we can collectively support our students and families to recover from the impact of the pandemic," Dominguez said. "I want to ensure that our schools are maintaining safe learning environments that are focused on helping students to excel academically and socially. I value the work that the Board, employees, families, and partners have already done to serve and support our students and I know that together we will make sure that Donna ISD is the best school district in the Rio Grande Valley."