Return to Headlines
Donna ISD Students Learning To Follow The Science Through A Forensic Science Course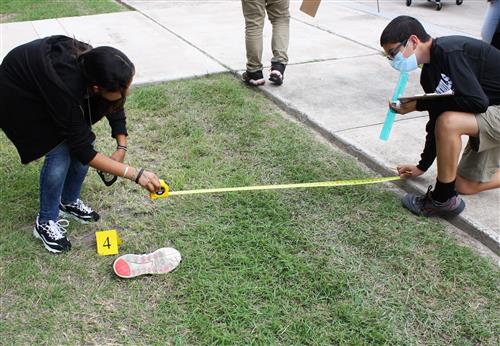 It looked like a scene from a CSI TV series, but it was actually a student field activity led by Donna ISD Teacher Martin Martinez. Martinez teaches Forensic Science to sixth, seventh and eighth graders at Sauceda Middle School S.T.E.A.M. Academy. The course, which is the only one of its kind in the district, is gaining in popularity.
On this particular day, their assignment took the class outdoors to study blood spatter. Suited up in protective gear, the students struck objects to create blood spatter that mimic blood patterns found in crime scenes where blunt objects are used as weapons. They were then instructed to analyze the patterns, calculate droplet trajectory and angle of impact, and identify their point of origin. According to Martinez, CSI teams recreate blood spatter patterns and mathematically retrace their steps using these techniques frequently. Doing so helps them reconstruct and understand what happened in the crime scene.
"The students are surprised once they take the class," Martinez said. "They believe everything they see on TV is real, but then they notice that it's completely different or not as flashy as it is on TV. But, it's pretty close. They acquire a better understanding once they actually see how much knowledge they gain from doing these small observations of evidence. They will say things like 'Oh my God, I didn't know that you can tell this by doing that or I didn't know these forms of clues existed.' So, these activities are very engaging and they're always learning something new."
Martinez said the course uses science to solve crimes and legal issues within the civic and criminal justice systems. Topics he covers include finger printing, DNA profiling, ballistics, handwriting analysis, fraudulent currency and blood spatter methods. "The students learn to collect, analyze, and document the evidence then they present their findings and interpret it." Martinez said.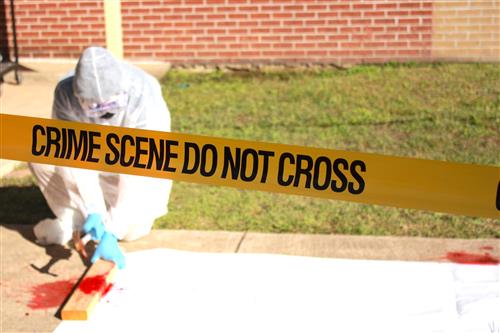 While this is the second year Martinez teaches forensic science, this is the first year his students are applying the skills they learned in the classroom, outdoors conducting field activities. For a Thanksgiving project, they set up a turkey outside for two weeks to study the decay process. "They'll go home and share some of the things we're doing with their parents and how it's so cool that they know this now," Martinez said. "They're having fun practicing what CSI investigators actually do. That's the part they really like."
Students said they particularly enjoy the field activities. "For me, Forensic class lets me visualize what professionals do in that field of forensics, what they really do in cases, and what sort of strategies they use to solve them specifically," eighth-grade student Jared Escudero said. "I'm interested in becoming a forensic pathologist and I think this class can teach me what they do, and help me determine if this is something I want to do when I grow up."
"I like this class because we do a lot of experiments," seventh-grade student Baillynn Belmarez said. "I joined the class because I thought it would be interesting and just a fun experience. We get to learn new things that we can use in the outside world."